IL-1β Mouse Monoclonal Antibody





Catalog #:EAB21479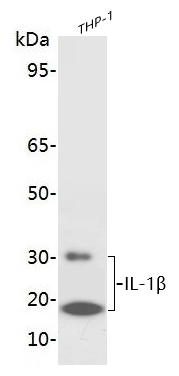 | | | | | |
| --- | --- | --- | --- | --- |
| | SKU-Pack Size | Availability | Size | Price |
| | EAB21479-100UL | In Stock | 100ul | ¥2490.00 |
If you want to get a larger packsize, Please contact your local distributor or
email us at
info@ebiocell.com
| | |
| --- | --- |
| | Please select the country you are in to find your local distributor. |
北京美瑞克生物科技有限公司
Phone: +86 010-62890160 / 13691184142(微信同号)
2 / F, 128 malianwa North Road, Haidian District,
E-mail:

mrkbio@163.com

China
Beijing China
Website:

www.mrkbio.com
Product Information
Applications
WB, IP, IHC-P, IF/ICC, FC
Species Reactivity
Human, Mouse, Rat
Host / Isotype
Mouse IgG1
Clonality
Monoclonal
Applications Dilutions
WB=1:1000-5000 
IP=1:50-200 
IHC-P=1:50-300 
IF/ICC=1:50-300 
FC=1:50-200
MW (kDa)
31
Conjugate
Unconjugate
Specificity
IL-1β Mouse Monoclonal Antibody detects endogenous levels of IL-1β protein.
Purification
Affinity purification
Concentration
1mg/ml
Format
Liquid
Formulation
In PBS, pH 7.4, containing 0.02% sodium azide,0.5% BSA and 50% glycerol.
Shipping
Gel Pack
Storage
Store at -20°C least 1 year from the date of shipment. avoid repeated freeze/thaw cycles. Aliquots may be stored at +4°C for 1-2 weeks.
Research Use
For Research Use Only. Not Intended for Diagnostic or Therapeutic Use.

Application Key




WB-Western Blot IP-Immunoprecipitation IHC-Immunohistochemistry IF-Immunofluorescence ICC-Immunocytochemistry FC-Flow Cytometry

Reactivity Key




H-Human M-Mouse R-Rat Mk-Monkey B-Bovine Pg-Pig Hm-Hamster Dg-Dog C-Chicken X-Xenopus Z-Zebrafish Hr-Horse All-All Species Expected
Product Bioinformatics
Synonym(s)
IL-1; Il-1b; IL-1beta; IL1-BETA; IL1B; IL1F2
Gene Aliases
IL1B
UniProt ID
Entrez Gene ID
Product Description
IL-1β (also designated IL1F2, IL-1 beta, interleukin 1 beta, IL1 beta, IL1B) is a member of the interleukin 1 cytokine family. This cytokine is produced by activated macrophages as a proprotein, which is proteolytically processed to its active form by caspase 1 (CASP1/ICE). This cytokine is an important mediator of the inflammatory response, and is involved in a variety of cellular activities, including cell proliferation, differentiation, and apoptosis. The induction of cyclooxygenase-2 (PTGS2/COX2) by this cytokine in the central nervous system (CNS) is found to contribute to inflammatory pain hypersensitivity. Similarly, IL-1B has been implicated in human osteoarthritis pathogenesis. Patients with severe Coronavirus Disease 2019 (COVID-19) present elevated levels of pro-inflammatory cytokines such as IL-1B in bronchial alveolar lavage fluid samples. The lung damage induced by the Severe acute respiratory syndrome coronavirus 2 (SARS-CoV-2) is to a large extent, a result of the inflammatory response promoted by cytokines such as IL-1B. This gene and eight other interleukin 1 family genes form a cytokine gene cluster on chromosome 2.
Product Image Gallery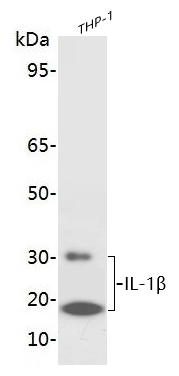 Western blot analysis of extracts on A431 cells, using IL-1β Mouse Monoclonal Antibody (EAB21479) at 1:2000 dilution. Secondary antibody Goat Anti-Mouse IgG (H&L)-HRP (EAB21001) at 1:5000 dilution.

Predicted band size: 31 kDa
Observed band size: 35 kDa
For Research Use Only, Not For Diagnostic Or Therapeutic Procedures.