SM-164 (CAS: 957135-43-2)





Catalog #:EBC51022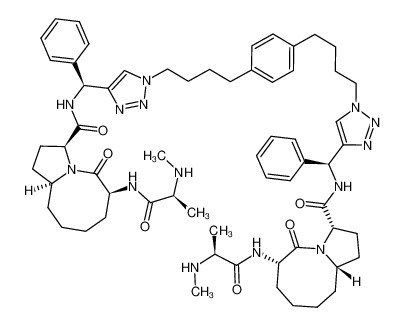 SM-164 (CAS: 957135-43-2)
| | | | | |
| --- | --- | --- | --- | --- |
| | SKU-Pack Size | Availability | Size | Price |
| | EBC51022-1ML | In Stock | 1mL(10mM in DMSO) | ¥5990.00 |
| | EBC51037-2MG | In Stock | 2mg | ¥2390.00 |
| | EBC51022-5MG | In Stock | 5mg | ¥3290.00 |
| | EBC51022-10MG | In Stock | 10mg | ¥4190.00 |
| | EBC51022-25MG | In Stock | 25mg | ¥7990.00 |
If you want to get a larger packsize, Please contact your local distributor or
email us at
info@ebiocell.com
| | |
| --- | --- |
| | Please Select The Country You Are In To Find Your Local Distributor. |
北京美瑞克生物科技有限公司
Phone: +86 010-62890160 / 13691184142(微信同号)
2 / F, 128 malianwa North Road, Haidian District,
E-mail:

mrkbio@163.com

China
Beijing China
Website:

www.mrkbio.com
Product Information
Synonym(s)
SM 164, SM164
Chemical Name
(S,3S,3'S,6S,6'S,10aS,10a'S)-N,N'-((1S,1'S)-(1,1'-(4,4'-(1,4-phenylene)bis(butane-4,1-diyl))bis(1H-1,2,3-triazole-4,1-diyl))bis(phenylmethylene))bis(6-((S)-2-(2-methylamino)propanamido)-5-oxodecahydropyrrolo[1,2-a]azocine-3-carboxamide)
Application
SM-164 is a bivalent mimetic of Smac
CAS Number
957135-43-2
Purity
≥99.0%
Molecular Weight
1121.42
Molecular Formula
C62H84N14O6
SMILES
O=C([C@H]1N(C([C@@H](NC([C@H](C)NC)=O)CCCC2)=O)[C@]2([H])CC1)N[C@H](C3=CN(CCCCC4=CC=C(CCCCN5C=C([C@H](NC([C@@H]6CC[C@](CCCC[C@@H]7NC([C@@H](NC)C)=O)([H])N6C7=O)=O)C8=CC=CC=C8)N=N5)C=C4)N=N3)C9=CC=CC=C9
Target & IC50
XIAP: IC50 = 0.56nM(Ki)
cIAP-1: IC50 = 0.31nM(Ki)
cIAP-2: IC50 = 1.1nM(Ki)
Solubility
DMSO: 5.2 mg/mL (4.64 mM)
Preparing Stock Solutions

Concentration

Solvent

Mass

1 mg
5 mg
10 mg
1 mM
0.8917 ml
4.4586 ml
8.9173 ml
5 mM
0.1783 ml
0.8917 ml
1.7835 ml
10 mM
0.0892 ml
0.4459 ml
0.8917 ml
50 mM
0.0178 ml
0.0892 ml
0.1783 ml

Shipping
Gel Pack
Storage
Store at -20°C
Research Use
For Research Use Only. Not Intended for Diagnostic Or Therapeutic Use.
Product Description
SM-164 is developed as an anticancer agent. It plays its antitumor roles through inducing degradation of cellular inhibitor of apoptosis protein (cIAP)-1/2, antagonizing X-linked inhibitor of apoptosis protein (XIAP) and inducing TNFα–dependent apoptosis in tumor cells. SM-164 is a bivalent mimetic containing two SM-122 analogues. It binds to cIAP-1 protein containing bothBIR2 and BIR3 domains, cIAP-2 BIR3 protein and XIAP protein containing both BIR2 and BIR3 domains with Ki values of 0.31 nM, 1.1 nM and 0.56 nM, respectively. In tumor cells, treatment of SM-164 significantly reduced cIAP-1 level to undetectable levels (1nM, 60min), effectively antagonized cellular XIAP and enhanced TNFα secretion. In the MDA-MB-231 xenograft model, administration of SM-164 at dose of 5mg/kg markedly decreased cIAP-1 level within 1 hour and activated caspase-8, caspase-9 and caspase-3 at 3 hour 1.
For Research Use Only, Not For Diagnostic Or Therapeutic Procedures.