MDR1/ABCB1 Rabbit Monoclonal Antibody





Catalog #:EAB21700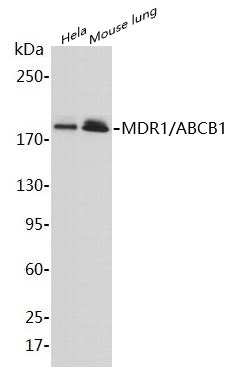 | | | | | |
| --- | --- | --- | --- | --- |
| | SKU-Pack Size | Availability | Size | Price |
| | EAB21700-100UL | In Stock | 100ul | ¥2290.00 |
| | EAB21700-200UL | In Stock | 200ul | ¥3690.00 |
If you want to get a larger packsize, Please contact your local distributor or
email us at
info@ebiocell.com
| | |
| --- | --- |
| | Please select the country you are in to find your local distributor. |
北京美瑞克生物科技有限公司
Phone: +86 010-62890160 / 13691184142(微信同号)
2 / F, 128 malianwa North Road, Haidian District,
E-mail:

mrkbio@163.com

China
Beijing China
Website:

www.mrkbio.com
Product Information
Applications
WB, IHC-P
Species Reactivity
Human, Mouse, Rat
Host / Isotype
Rabbit IgG
Clonality
Monoclonal
Applications Dilutions
WB=1:500-2000 
IHC-P=1:50-200 

MW (kDa)
141
Conjugate
Unconjugate
Specificity
MDR1/ABCB1 Rabbit Monoclonal Antibody detects endogenous levels of MDR1/ABCB1 protein.
Purification
Affinity purification
Concentration
1mg/ml
Format
Liquid
Formulation
In PBS, pH 7.4, containing 0.02% sodium azide,0.5% BSA and 50% glycerol.
Shipping
Gel Pack
Storage
Store at -20°C least 1 year from the date of shipment. avoid repeated freeze/thaw cycles. Aliquots may be stored at +4°C for 1-2 weeks.
Research Use
For Research Use Only. Not Intended for Diagnostic or Therapeutic Use.

Application Key




WB-Western Blot IP-Immunoprecipitation IHC-Immunohistochemistry IF-Immunofluorescence ICC-Immunocytochemistry FC-Flow Cytometry

Reactivity Key




H-Human M-Mouse R-Rat Mk-Monkey B-Bovine Pg-Pig Hm-Hamster Dg-Dog C-Chicken X-Xenopus Z-Zebrafish Hr-Horse All-All Species Expected
Product Bioinformatics
Synonym(s)
ABC20; CD243; CLCS; GP170; MDR1; P-GP; PGY1; P-Glycoprotein; Multi Drug Resistance Associated Protein; ABCB1; Multidrug resistance protein 1; P-glycoprotein 1
Gene Aliases
ABCB1
UniProt ID
Entrez Gene ID
Product Description
The membrane-associated protein encoded by this gene is a member of the superfamily of ATP-binding cassette (ABC) transporters. ABC proteins transport various molecules across extra- and intra-cellular membranes. ABC genes are divided into seven distinct subfamilies (ABC1, MDR/TAP, MRP, ALD, OABP, GCN20, White). This protein is a member of the MDR/TAP subfamily. Members of the MDR/TAP subfamily are involved in multidrug resistance. The protein encoded by this gene is an ATP-dependent drug efflux pump for xenobiotic compounds with broad substrate specificity. It is responsible for decreased drug accumulation in multidrug-resistant cells and often mediates the development of resistance to anticancer drugs. This protein also functions as a transporter in the blood-brain barrier. Mutations in this gene are associated with colchicine resistance and Inflammatory bowel disease 13. Alternative splicing and the use of alternative promoters results in multiple transcript variants.
Product Image Gallery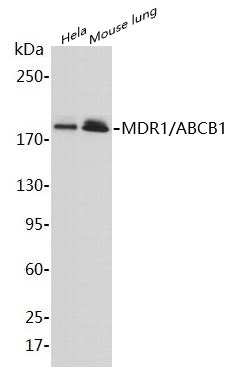 Western blot analysis of extracts on Hela cells, using MDR1/ABCB1 Rabbit Monoclonal Antibody (EAB21700) at 1:1000 dilution. Secondary antibody Goat Anti-Rabbit IgG (H&L)-HRP (EAB21002) at 1:5000 dilution.

Predicted band size: 141 kDa; Observed band size: 180 kDa
For Research Use Only, Not For Diagnostic Or Therapeutic Procedures.